Home
Welcome
The Cleaners of Greeley, CO
The Cleaners operates under the name of Nu-Way Cleaners.
We have five locations to serve you in Greeley, Colorado.
We are a full service cleaners having served the Northern Colorado area since 1972 under the present ownership.
---
The Cleaners has greatly expanded its service offering to include: computerization of garment handling and plant operations, alterations, feather pillow cleaning, wedding gown cleaning and preservation, fire and odor restoration, custom shirt finishing, custom drapery cleaning and leather cleaning. We now offer pickup and delivery service in selected areas.

Note: If you can't see the 50%Off Coupon on your iPhone or other device, just look
under "More>Photos" on the options bar and you will see it, Then show the display of the coupon photo to our CSR to receive the 50% discount. The profile photo is also the coupon.
How do I sign up for Facebook?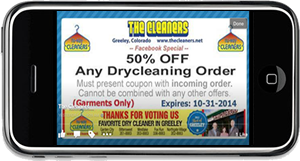 If you don't have a Facebook account, you can sign up for one in a few steps:
Go to www.facebook.com.
If you see the signup form, fill out your name, email address or phone number, password, birthday and gender. If you don't see the form, click Sign Up, then fill out the form.
Once you sign up, you'll need to confirm your email address or phone number. They'll send you either an email or a text message to help you confirm your account.