VIP
Five Locations

HOURS:
Monday – Friday 7:30AM – 6:00PM
Saturday 8:00AM – 5:00 PM
We have five locations to serve you in Northern Colorado. We are a full service cleaners having served the Northern Colorado area since 1972.
---
Garden City 970-356-8883
2501 7th Ave, Greeley, CO
Westlake Village – 970-353-8883
2012 35th Ave, Greeley, CO
Bittersweet Plaza – 970-351-8883
3512 10th St Greeley, CO
Northgate Village – 970-352-8883
6624 10th St, Suite 101, Greeley, CO
Johnstown – 970-587-8383
21 South Parish Ave, .Johnstown, CO
VIP Service
What Is VIP Service?
It's an express drycleaning service and discount plan for the busy person. It's doesn't cost any more than our regular dry cleaning service [ACTUALLY IT COSTS LESS]. It guarantees that you won't have to wait in line to drop off your clothes and it speeds up the process of picking up your order.
HOW DOES THE DISCOUNT WORK?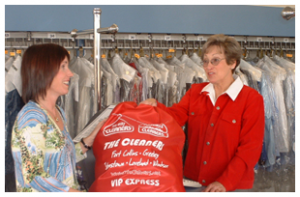 As a VIP customer, you are entitled to receive special discounts on drycleaning and shirt laundry. The percentage discount will vary in the range of 10% to 50% depending on seasonal and other promotional considerations.
HOW CAN I BECOME A VIP MEMBER?
Simply complete an application form and return it along with a check [or credit card number] for $10.00. We'll prepare your personalized identification cards and bags and have them ready for you in about a week. Bringing your drycleaning and shirts to be laundered in your VIP bags will ensure that no garments are dropped on the way in or outside the drive-up window. Having VIP bags affords you "Express Service" as you don't have to wait for an available clerk. Just leave your bag and you're on your way. Garments will be ready 1 working day later…after 5:00 p.m. unless same day service is specifically requested. With VIP bags you can also take advantages of our after-hours drop off chutes, available at all locations.
VIP PLUS SERVICE
VIP Plus Service has all the features of VIP Service with one additional advantage. VIP Plus Service sets you up with an account that will automatically bill the credit card of your choice. This is the totally cashless way of doing business with your drycleaner. This puts the "EXPRESS" into express service. Not only don't you have to wait when you drop off your laundry and drycleaning, but you will no longer have to wait for the customer service representative to ring up your order, you won't have to write out a check, or wait for your credit card to be processed.

Sign up for VIP or VIP Plus Service stop by one of our convenient locations or complete the registration form here.